MEMORIES OF MIDWAY ISLAND By CDR. Richard G. Rieken, USN Ret.
(As told to his wife Edie in 1997)
After a seven-month training cruise on the USS HORNET CVS-12 through WestPac to China, Japan and the Philippines, Dick's next assignment took him to Midway Island for a year, 'way out on the northwest end of the Hawaiian string, over a thousand miles from Honolulu. Leaving Long Beach Naval Shipyards in mid-summer of 1961, he hoped to have his family join him, but when he arrived, he found very little for recreation except a movie theatre, and no hot water! He told his wife not to come.
He'd been on Guam from July 1951 to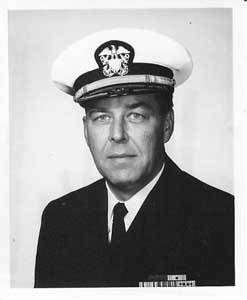 December 1953, his wife and first child also, and had become a commissioned officer there. Midway at least seemed cooler than Guam with a shorter rainy period. And "gooney birds" lived there! They are actually albatrosses, very large and graceful while flying, but when they land, it's like a semi-controlled crash! He'd seen them hit a wall and crash into a moving bicycle because they can't control their landings. When the young birds reach a certain stage of growth, they fly away all at once; those who can't fly yet, wade out into the water and start paddling but many are eaten by sharks. The young birds stay away for three or four years, returning to Midway to raise their young. They nest in holes in the sand, often within ten feet of the nest where they were hatched out. Dick said, "I've seen the mother gooney sitting on their nests in a sandstorm, get covered with sand and die. When there's been a lot of rain, the young birds stay in their nests and drown. They're really gooney."
There's another bird there called "Man O'War" that's also a very large bird, although they seem to be mostly "framework and feathers." They can be absolutely motionless in the air, waiting for any smaller bird to fly by with a fish in its beak; then they'll drop like a rocket towards that bird, scare it enough to drop its meal and the Man O'War is agile enough to catch the fish in the air! Another strange bird there is the Olson bird; they nest on the ground and if anyone approaches, their necks turn bright red; they start flopping around and seem so vicious that people stay away from them.
Dick said, "With not much to do sometimes, some of us would go over to nearby Sand Island where there was a Scatter Station, one of many run by the Army Transmission Service. It had huge antennas. We'd put earphones on and listen to the sounds from outer space. There were all kinds of weird beeps and bleeps and we always hoped to find a pattern of sounds that might indicate other beings out there."
Dick continues: "U-2 planes frequently flew to Midway on their way to Okinawa from California and stopped for rest, fuel and service. My job entailed having a section of a hangar set aside for the aircraft and sentries ready to guard it and keep curious people away. Frequently I was privy to close inspection of the aircraft. This was a highly secret "machine."
Wherever these planes went, a special crew with special equipment preceded its arrival, ready to land it and work on it. An Air Force plane, not Navy, pilots were civilians under contract and they called it "the Dragon Lady." The U-2 required specially filtered fuel not supplied by the Navy; though built to fly high, it was the toughest plane to land. It landed very slowly and because of an extra-long wingspan, two persons were at the ready on each side of the landing strip to run alongside and grab a wing tip to hold them up until the plane stopped. Then a strut with a wheel was attached to each wing tip to prop it up; these were released by the pilot when the plane took off again.
One of these planes was forced down by the Russians in 1960; the pilot, Gary Powers, was held and has been well-known ever since because of that incident. The United States didn't admit it was spying so he was eventually released. The craft is filled with cameras that can take close-up views of anything on the ground from very high altitude. It caught the Cubans building a missile site when John F. Kennedy was President. It was sometimes flown over eastern Siberia, which the Russians didn't like, and other countries. I don't know how many were in use, but there were several. It's an oddity that even in the 90's, the U-2 is still in use, though I suspect the technology of the 50's has been upgraded with all the technical advances in aircraft since then.
On Midway, sometimes the U-2 crew joined in the Sunday afternoon ball games; they were "high flyers," too-heavy drinkers–and often the pilot would have to sit and breathe pure oxygen for 45 minutes before takeoff to get the alcohol out of his system!"
Note: (By Edie, wife #2)
Born and raised in northern Idaho, Dick Rieken joined the Navy in 1940 and his leadership abilities were soon recognized. After completing Naval Aviation Machinist Mates School, the beginning of his 29-year career took him to a Carburetor School in Detroit, Michigan, an Aircraft Engine School in Patterson, New Jersey, then an assignment to Iceland on Pearl Harbor Day. A circuitous route to that destination took him to Northern Ireland, then Glasgow, Scotland. After 18 months on Iceland, he was sent back to Norfolk, Virginia, then transferred to Aerial Torpedo Squadron VT13. In 1944, he was appointed an Aviation Chief Machinist's Mate, then as part of the aircraft maintenance crew, Air Group 13, he boarded the new aircraft carrier, USS Franklin CV13, which then headed for WestPac. The ship experienced a great deal of action, including a direct hit, after which the carrier limped back to the west coast for repairs. Fortunately for Dick, he had been sent to Opa Locka, Florida, so wasn't aboard when the big carrier returned for more battles and received its devastating final hit on October 13, 1944. The war ended as did Dick's six-year tour of duty.
With jobs scarce, especially in Idaho, Dick was given the option to re-enlist at the same rating because he'd had special training. From Alameda Naval Air Station, he went to Kaneohe Island and moved up to Chief. In 1947, he returned to Alameda, working as a Materiel Planner in the Aircraft Overhaul and Repair Department, the only person there in uniform. He met Patricia, and they married in 1950.
(Here's where his Midway Island story enters in.)
In 1955, Dick was assigned to the Naval Technical Training Center in Memphis, Tennessee, where training launched him into the jet age. During three years there, a second daughter was born, he became a Lieutenant Senior Grade and was assigned a side duty as trial counsel for the Special Court Martial Board. He had to become a trial lawyer almost overnight! 1958 saw them move back to California and Long Beach became "home."
Dick's next assignment took him to Miramar where he was appointed a Lt. Commander in October, 1962. In 1965, following a bitter divorce, Dick reported to the U.S. Naval Air Facility at Sigonella, Catania, Sicily. After almost two enjoyable years there (a perfect assignment to adapt to the change in his personal life), his appointment to Commander became effective in September 1966, and he returned to the States in May, 1967. A leave allowed visits with his two young daughters, then he reported to Norfolk, Virginia, for his last sixteen months in the Navy; during that time, he accompanied an Admiral on inspection tours to various points of the Atlantic Fleet. He retired in September, 1968, settled in Portland, Oregon, near his two brothers and their families, where his daughters eventually joined him. I met him eight years later and life began again for both of us! (He was 58, I was 52). What a romance! After dating for over 3 years, he seemed fearful of remarrying, so I gave up on him. That did the trick! We were married in August, 1981, and I'm convinced the 20 years we had together were his happiest-but he had loved the Navy. He died in October, 1981, and I'm so grateful for having had my happiest of years with him.
Edie Rieken
26 Aug. 2004